---
Dealflow Brokerage version 2.0 has just launched. I began working with Dealflow Brokerage in 2017 when the Jamie the CEO engaged me to finish off development of their website before the company launched their website in April.
Looking to expand and take their business to the next level we began development on the new and improved version launched in June 2018. The website has a number of 3rd party API integrations including Hubspot, MailChimp, Mailshake and a identity verification platform SumSub to verify all new registered users.
Dealflow Brokerage's aim is to make buying and selling websites easy, safe and exciting. To check out what listings they have available or to find out how much your online business is worth today head on over to their site at the link below.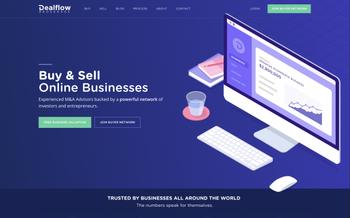 ---